What Would Scarlett Do?: A List of Do's and Don'ts for 2016
Happy 2016, dear hearts. I have been away a very long time... moving my life across the country, filming a little movie, and going into full mourning over the Chipotle E. Coli outbreak have kept me very busy this fall. But it's a new year and I'm ready to recommit myself to the important things in life: blessing hearts, cultural commentary, the occasional online date, and of course - sharing it all with you, my readers.
Now if you remember my New Year's post from last year, you'll know that I'm NOT A fan of "New Year, New Me". I don't find it a productive anecdote to begin the year with*. In fact, in pure protest, I enjoyed a delicious lunch today sitting alone at the bar of my local Cheesecake Factory. New Year, SAME ME.
You see, over the course of any given year we, as humans, are exposed to the FULL spectrum of the human experience. We experience sadness, but we also experience great joy. We experience failure, but we also experience successes that deserve recognition. The problem is that as each year comes to a close and we reflect upon what has transpired in preparation for what is to come, we tend to focus only on the negative... all the things that went wrong or what is lacking in our lives. And conversely, when looking at the lives of those around us and comparing ours to theirs (as EVERYONE does) we tend to only see the positive... all the things that have gone right for those people or what they might have that we desperately want. But here's the thing: If life has taught me anything in these 26 years it is that nothing is black and white, and no one's experience is all good or all bad. There is always a middle ground full of gorgeous shades of gray, and it is in recognizing this middle ground that we can authentically and productively make resolutions.
What I like to do when welcoming a New Year is look back at my life, be it the past year or the past several years, and honestly take account of what has been working and what has not. I make a list of positive things from previous years that I want to carry over into the coming year, as well as a list of things that maybe weren't so positive and that I hope to do differently. I also let those comparisons to friends and family kick in, because they are natural, but I force myself to navigate those comparisons realistically, without the rose colored glasses we often apply to life experiences that aren't our own. As an example, and because I think it will be fun, this year I'm composing my lists of Do's and Don'ts as they relate to one of my greatest role models, as well as one of the great literary heroines of our time: Scarlett O'Hara.
After all, WWSD is an acronym I strive to live by.
* (I googled whether or not I was allowed to end that sentence with a preposition and I am. Fellow grammar nazis stand down.)
more
The Displaced Debutante's 2016
"DO'S and DON'TS" List
About love in 2016...
DO: Approach online dating with the confidence of Scarlett at the Twelve Oaks barbecue
"A girl doesn't have but two sides to her at a table..."
- Scarlett
DON'T: Kiss married men.
Haven't done that since 2012 so

#winning

. (long story)
DO: Take Rhett's advice in ALL things, but especially this.
(That gets me EVERY DAMN TIME)
DON'T: Keep tabs on pitiful ex-boyfriends who can't even split rails.
Ashley is the worst. We all have an Ashley. Say goodbye.
About health in 2016...
DO: Adopt a more post-war Scarlett-like clean eating on a budget meal plan.
DON'T: Eat like Scarlett on her honeymoon in New Orleans.
About work in 2016...
DO: Be a total Lady Boss when it comes to your career
She ran a lumber mill for goodness sake.
DON'T: Let it make you arrogant.
If you do you'll make everyone mad at you and then get attacked while driving your buggy through Shanty Town alone and then your second husband who you didn't really love anyway will die while leading the covert raid to avenge your honor. Okay maybe not all that but you get the idea.
About giving back in 2016...
DO: Continue working/volunteering for charitable organizations
DON'T: Be a bitch about it.
Pout.
About hardship in 2016...
DO: Continue to face all of life's trials and tribulations with Scarlett-like determination.
"As God as my witness they're not going to lick me, I'm going to get through this Chipotle e.coli scare and when I do I'll never be hungry again."
- Scarlett (and me)
DON'T: Drown sorrows in brandy... or bourbon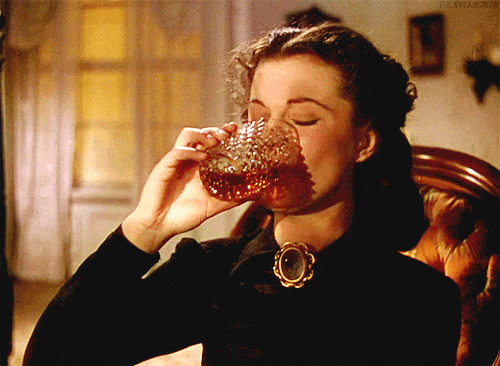 "Never drink alone Scarlett.
People always find out and it ruins your reputation."
- Rhett
About lifestyle in 2016...
DO: Be more frugal and SAVE MONEY
DON'T: Let being frugal keep you from looking like a queen.
DO: Upgrade loungewear wardrobe
It's hard to feel like a lazy bag of garbage while watching Netflix for 6 straight hours if you look like this while doing it.
DO: Arrive at all parties looking like a million dollars.
Even if she was a little overdressed.
About haters in 2016...
India's and Sue Ellen's... we've all got 'em
DO: Continue to kill them with kindness.
"Why India, what a lovely dress... just can't take my eyes off it!"
- Scarlett
DON'T: Flirt with their beaux to get back at them (or to pay the taxes on Tara)
DO: Throw appropriate shade and quickly move on when you wake up to find that people on the Miss America Message Boards have called you a lesbian... again.
DON'T: Let your face give you away.
About the future in 2016...
DON'T: Procrastinate or put things off. Get it done!
I say this way too often for my own good.
DO: Have hope... always have hope.
Happy New Year, my loves. Let's make it a great one.
With Grace and Good Humor,